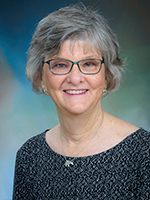 Specialties: Psychology - Pediatric
Dr. Niebuhr, Professor of Pediatrics, is a pediatric psychologist and medical educator. In her Psychology practice, she works with children ages two through teens, and their families, especially with autism spectrum disorders, ADHD, depression and anxiety disorders. She is also the psychologist for ECI LAUNCH, UTMB's infant intervention program. Dr. Niebuhr is the Director of Educational Technology for the Department of Pediatrics. She is an Associate in the School of Medicine's Office of Educational Development and has an appointment in the Department of Physical Therapy in the School of Health Professions. Dr. Niebuhr is a member of the UTMB Academy of Master Teachers and Distinguished Teaching Professor for the UT System. She received her BA in Psychology/Sociology from Oklahoma City University, her MA and PhD in Psychology from Southern Illinois University in Carbondale, Illinois, and completed two fellowships at UTMB in Pediatric Psychology & Developmental Disabilities and in Clinical Child Psychology.
Medical/Professional School:
Southern Illinois University - Carbondale, IL, PhD, 1977
UTMB Health Pediatric Primary and Specialty Care, Bay Colony
2785 Gulf Freeway South #2.200
League City, TX 77573
Fax: (409) 772-3680
---
Why do some providers have no ratings?
At UTMB, a provider's ratings are only posted when she/he has a minimum of 30 completed surveys within the past twelve months. New-to-UTMB providers or individuals in less common areas of practice may be temporarily under this threshold. We set this baseline to ensure we offer the most accurate reflection of each Individual.
Read more about Ratings and Comments