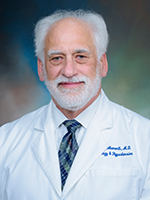 Departments: Internal Medicine
John Badalamenti, MD, is Associate Professor and Director of the Division of Nephrology and Hypertension in the Department of Internal Medicine. He is also the holder of the Paul R. Stalnaker, MD Distinguished Professorship in Internal Medicine. Established in 1994 by the Stalnaker Trust, the professorship honors an internationally recognized faculty member who has demonstrated superior medical, teaching and leadership skills.
An outstanding clinician-educator and leader, Dr. Badalamenti enjoys a distinguished career in nephrology that has been defined by his exceptional patient care.
Dr. Badalamenti earned his MD degree in 1981 from the Universidad Nacional Pedro Henriquez Urena in Santo Domingo, Dominican Republic. He completed his residency in Internal Medicine from Saint Barnabas Medical Center in Livingston, New Jersey, and his fellowship in Nephrology from Boston University. In 1988, Dr. Badalamenti joined the faculty at UTMB, where he served as Director of the Nephrology Fellowship Program. In 2000, he left UTMB to become Medical Director of Nephrology Services at St. Mary's Hospital and Medical Center in Grand Junction, Colorado. Dr. Badalamenti was recruited back to UTMB in 2010.
Medical/Professional School:
Universidad Nacional Pedro Henríquez Ureña - Santo Domingo, Dominican Republic, MD, 1981
Residencies:
Internal Medicine, Saint Barnabas Medical Center - Livingston, New Jersey, 1985
Fellowships:
Nephrology, Boston University School of Medicine - Boston, MA, 1988
UTMB Health Nephrology - Galveston
1005 Harborside Drive
Galveston, TX 77550
Fax: (409) 774-0777
---
UTMB Health Nephrology - Galveston
1005 Harborside Drive
Galveston, TX 77550
Fax: (409) 774-0777
---
Why do some providers have no ratings?
At UTMB, a provider's ratings are only posted when she/he has a minimum of 30 completed surveys within the past twelve months. New-to-UTMB providers or individuals in less common areas of practice may be temporarily under this threshold. We set this baseline to ensure we offer the most accurate reflection of each Individual.
Read more about Ratings and Comments