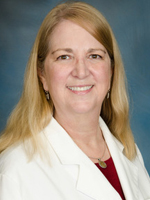 Specialties: Transplant Surgery
Dr. Kristene Gugliuzza was born in Arkansas and was raised most of her life in east-central Illinois. She completed her academic and medical school training in the University of Illinois at Rockford and her general surgical training as well as her kidney transplant fellowship at Tulane University School of Medicine. She obtained an additional fellowship position at the University of Minnesota Medical School for training in pancreas transplantation. Dr. David ER Sutherland was her mentor there, and in the 9 weeks she was there, they did 14 simultaneous kidney/pancreas transplant, which was the largest number of transplants in that time period up to that date.
Dr. Gugliuzza remained in the Department of Surgery at Tulane as an instructor where she was able to perform pediatric kidney transplants, a favorite procedure of hers. She secured a position at the University of Texas Medical Branch (UTMB) in May of 1990. She has remained at UTMB ever since. Her duties when she started were to perform all the pancreas transplants and pediatric kidney transplant as well as run the service every other month, which included all the kidney alone transplants.
Dr. Gugliuzza has been involved regionally and nationally in transplant by serving on the Texas Department of Health Kidney Health Care Program Advisory Committee as Chairman from 1991-2000; serving on the Executive committee of the Texas Transplantation Society from 1993 until 1999 when she was President of the society; serving as a member chosen by the Texas Legislature for Texas State Senate Bill 862 Taskforce on Organ Allocation for 18 months from 1999-2000; and served on the ERSD Network Region 14 Medical Advisory Board from 1998-2003. She also was involved with the Organ Procurement Organization, Southwest Transplant Alliance Board of Directors from 1999-2007, and with a 3-year hiatus, has continued to serve on the Board of Directors from 2010 until present. She has been the Chairman of the Board since 2012. Nationally, she served from 1994 to 2004 on various UNOS committees and subcommittees including being the UNOS Region 4 Councilor to the Board of Directors from 2000-2004. Dr. Gugliuzza has been a "Top Doc" and a "Texas Super Doctor" for several years.
Dr. Gugliuzza has been a good steward for general surgery in the state as she has been local arrangement chairman for South Texas Chapter ACS annual meeting in 2013 and the Centennial Meeting of the Texas Surgical Society in 2015. She also has been the President of the UTMB Singleton Surgical Society twice; was Chief of Staff for the John Sealy Hospital; and served on the Academic Progress Committee for a total of 16 years with 7 years being the chair, as well as many other committees of the School of Medicine.
Education is Dr. Gugliuzza's passion. She was the Program Director of the General Surgery Residency for 10 years. She contributes to the Transplant service rotation education curriculum and is involved in the training of all learners, from allied health students to Transplant fellows. She currently is the Co-Director of the UT Systems project TIME (Transformation in Medical Education) for UTMB. This curriculum is for a 6-year MD degree, from undergraduate education through Medical School. The first medical students arrived on June 13, 2016 and the full story will be told at a later date.
Medical/Professional School:
University of Illinois College of Medicine - Chicago, IL, MD, 1982
Residencies:
General Surgery, Tulane University School of Medicine - New Orleans, LA,, 1987
Fellowships:
General Surgery and Kidney Transplantation Surgery, Tulane University School of Medicine - New Orleans, LA,,
Pancreas Transplantation, University of Minnesota - Minneapolis, MN,
Internships:
Surgery, Tulane University School of Medicine - New Orleans, LA,, 1987
---
Certifications:
Surgery,American Board of Surgery
UTMB Health General Surgery - Galveston
1005 Harborside Drive
Galveston, TX 77550
Fax: (409) 772-4456
---
UTMB Health Transplant Clinic - McAllen
1901 South 1st Street
McAllen, TX 78503
---
Why do some providers have no ratings?
At UTMB, a provider's ratings are only posted when she/he has a minimum of 30 completed surveys within the past twelve months. New-to-UTMB providers or individuals in less common areas of practice may be temporarily under this threshold. We set this baseline to ensure we offer the most accurate reflection of each Individual.
Read more about Ratings and Comments