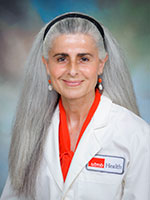 Specialties: Infectious Diseases - Pediatric
Languages: English,Italian
Dr. Casola is a physician-scientist specialized in pediatric infectious diseases, with research expertise in the area of respiratory viral pathogens, lung inflammation, and cell signaling. Her research is focused on the investigation of viral- and host-specific mechanisms that contribute to the pathogenesis of respiratory viral infections. Over the past several years, she has identified several inducible intracellular signaling pathways activated by respiratory syncytial virus (RSV) in airway epithelial cells with particular emphasis on the role of reactive oxygen species in RSV induced lung inflammation both in vitro and in vivo, using a mouse model of RSV infection. Her research efforts include investigating the pathogenesis of respiratory diseases caused by human metapneumovirus (hMPV). Her laboratory uses recombinant hMPV viruses to investigate specific viral protein functions, with the ultimate goal to understand disease pathogenesis and design effective vaccines.
Medical/Professional School:
Aolocress of Riolico School - Italy, MD, 1989
Residencies:
Pediatrics, Aolocress of Riolico School - Italy, 1993
Fellowships:
Infectious Diseases, Aolocress of Riolicol School - Italy, 1994
Pediatrics, University of Texas Medical Branch - Galveston, TX, 2005
Internships:
Pediatrics, Aolocress of Riolico School - Italy, 1990
---
Certifications:
Pediatrics,American Board of Pediatrics
Pediatric Infectious Diseases,American Board of Pediatrics
No Location data to display
Why do some providers have no ratings?
At UTMB, a provider's ratings are only posted when she/he has a minimum of 30 completed surveys within the past twelve months. New-to-UTMB providers or individuals in less common areas of practice may be temporarily under this threshold. We set this baseline to ensure we offer the most accurate reflection of each Individual.
Read more about Ratings and Comments