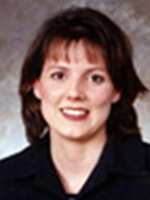 Departments: Anesthesiology
Specialties: Anesthesiology, Pain Medicine
Dr. Denise Wilkes is an Assistant Professor in the Department of Anesthesiology. She is board certified in Anesthesiology and Pain Medicine. She joined the UTMB Pain Medicine Practice in 2007 and treats chronic pain conditions with emphasis on cancer and facial pain. Her practice provides medical management and interventional procedures such as steroid injection, neurolytic blocks, spinal cord stimulator, vertebroplasty, and kyphoplasty.
Dr. Wilkes is also a researcher. She works with other scientist in the Department of Neurosciences translating basic science discoveries into potential clinical treatments. Her research focus is to study novel therapeutic approaches for neuropathic pain such as gene therapy. The National Institute on Drug Abuse currently funds her research.

Medical/Professional School:
University of Texas Medical Branch - Galveston, TX, MD, 2002
Residencies:
Anesthesiology, Bangalore, 2006
UTMB Health Pain Management and Neurology- Multispecialty Center
2660 Gulf Freeway South #10
League City, TX 77573
Fax: (281) 337-0720
---
Why do some providers have no ratings?
At UTMB, a provider's ratings are only posted when she/he has a minimum of 30 completed surveys within the past twelve months. New-to-UTMB providers or individuals in less common areas of practice may be temporarily under this threshold. We set this baseline to ensure we offer the most accurate reflection of each Individual.
Read more about Ratings and Comments