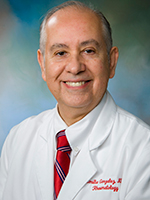 Departments: Internal Medicine
Specialties: Rheumatology
Languages: English,Spanish
Dr. Emilio B. Gonzalez is professor of medicine and director of the division of rheumatology at UTMB. He joined the UTMB faculty in 2004 from Emory University and Atlanta Medical Center, in Atlanta, Georgia. He trained in allergy, immunology and rheumatology at the universities of Pittsburgh, Colorado, and Texas in Galveston. He is Board-certified in internal medicine, allergy-immunology, and rheumatology.
Dr. Gonzalez has published many articles in peer-reviewed journals such as Arthritis & Rheumatism, the Archives of Internal Medicine, and the Journal of Allergy and Clinical Immunology. He has also contributed to several textbook chapters including Kelly's rheumatology textbook. He continues to serve as principal investigator in a number of research studies dealing with newer therapies in the treatment of rheumatoid arthritis and osteoarthritis. His interests also include systemic lupus erythematosus, gout, and reactive arthritis. He is a fellow of the American College of Physicians, and a founding fellow of the American College of Rheumatology. In 1996, he served as president of the Georgia society of rheumatology, and in 2004, as chairman of the medical & scientific committee of the Arthritis Foundation, Georgia chapter, in Atlanta. While at Emory, Dr. Gonzalez was the recipient of the Golden Apple award for excellence in teaching at Grady Memorial Hospital, department of medicine. At UTMB, he was elected as a member of the UTMB Academy of Master Teachers, and in 2009, Dr. Gonzalez was elected by the regents of the UT system in Austin as a distinguished teaching professor. He has been elected as a Texas SuperDoc from 2011 until the present.
Medical/Professional School:
University Hospital Asunción - Asunción, Paraguay, MD, 1972
Residencies:
Internal Medicine, University Hospital Asunción - Asunción, Paraguay, 1974
Internal Medicine, Danbury Hospital - Danbury, CT, 1978
Fellowships:
Allergy & Immunology, University of Pittsburgh Medical Center - Pittsburgh, PA, 1979
Allergy & Immunology, National Jewish Center for Immunology and Respiratory Medicine - Denver, CO, 1980
Immunology, University of Texas Medical Branch - Galveston, TX, 1981
Internships:
Rotating Internship, University Hospital Asunción - Asunción, Paraguay, 1974
Transitional, Northeastern Hospital - Philadelphia, PA, 1975
---
Certifications:
Allergy and Immunology,American Board of Allergy and Immunology
Internal Medicine,American Board of Internal Medicine
Rheumatology,American Board of Internal Medicine
UTMB Health Rheumatology - Multispecialty Center
2660 Gulf Freeway South #9
League City, TX 77573
Fax: (281) 337-0704
---
Why do some providers have no ratings?
At UTMB, a provider's ratings are only posted when she/he has a minimum of 30 completed surveys within the past twelve months. New-to-UTMB providers or individuals in less common areas of practice may be temporarily under this threshold. We set this baseline to ensure we offer the most accurate reflection of each Individual.
Read more about Ratings and Comments