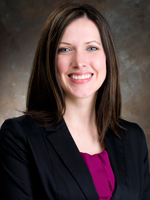 Departments: Psychiatry and Behavioral Sciences
Specialties: Psychiatry and Behavioral Health - Child and Adolescent
Dr. Melissa DeFilippis was born and raised in Abilene, Texas and completed her undergraduate training at Hardin-Simmons University, with a B.S. in Biology and Biochemistry. She completed all her medical training in the UT System, first in Houston for medical school, then at UTMB in Galveston for her general psychiatry and child and adolescent psychiatry training. She developed her love of teaching during her years in residency and fellowship training and enthusiastically accepted a faculty position in UTMB's Department of Psychiatry, in the Child and Adolescent division.
During her time as Assistant Professor in the Department of Psychiatry, she has been very involved in providing care to underserved children and adolescents both in North Texas and in Corpus Christi via telepsychiatry community mental health clinics. She provided supervision of telepsychiatry services to youth in the Texas Juvenile Justice Department system. She provides supervision of child and adolescent psychiatry fellows in their outpatient psychiatry clinics along with providing outpatient care to her own private patients. She directs and supervises the Developmental Disorders clinic, assessing and treating patients with neurodevelopmental disorders, including autism spectrum disorders. She is currently serving as the Director of the Child and Adolescent Psychiatry Division, and she chairs the Quality Assurance Committee for her department, also sitting on the Hospital Quality Care Committee. She is the Small Departments Representative for UTMB's MSRDP Board of Directors and also serves on UTMB's Credentials Committee.
Dr. DeFilippis is active in the American Academy of Child and Adolescent Psychiatry and the American Academy of Directors of Child and Adolescent Psychiatry. She has written several peer reviewed articles on the diagnosis and treatment of mood disorders in children and adolescents and has given an international talk on non-injurious self-injury in adolescents within the juvenile justice system. She has been invited to speak on the management of autism spectrum disorders at regional meetings. Dr. DeFilippis and her husband enjoy traveling and spending time with their two children at their home in Friendswood, Texas.
Medical/Professional School:
University of Texas Medical School at Houston - Houston, TX, MD, 2011
Residencies:
Adult Psychiatry, University of Texas Medical Branch - Galveston, TX, 2009
Fellowships:
Child and Adolescent Psychiatry, University of Texas Medical Branch - Galveston, TX, 2011
Internships:
Psychiatry, University of Texas Medical Branch - Galveston, TX, 2006
---
Certifications:
General Psychiatry,American Board of Psychiatry and Neurology
Eligible in Child and Adolescent Psychiatry,American Board of Psychiatry and Neurology
UTMB Health Psychiatry - Galveston
400 Harborside Drive #118
Galveston, TX 77550
Fax: (409) 747-4010
---
UTMB Health Psychiatry - Webster
400 North Texas Avenue
Webster, TX 77598
Fax: (281) 557-2027
---
Why do some providers have no ratings?
At UTMB, a provider's ratings are only posted when she/he has a minimum of 30 completed surveys within the past twelve months. New-to-UTMB providers or individuals in less common areas of practice may be temporarily under this threshold. We set this baseline to ensure we offer the most accurate reflection of each Individual.
Read more about Ratings and Comments