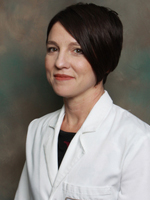 Departments: Family Medicine
Specialties: Family Medicine
Dr. Welch joined The Department of Family Medicine in 2011. Dr. Welch received her Bachelor of Science in Mechanical Engineering from the University of Texas in Austin. Dr. Welch went on to receive her Doctorate of Medicine here at The University of Texas Medicinal Branch in Galveston. and completed her resident in training at the Family Medicine Clinic - Island West, here at UTMB. Dr. Welch is currently a Behavioral and Integrative Medicine Fellow and continues to see patients at the Island West Clinic.
Dr. Welch is a board certified Family Physician and is also certified in Advanced Cardiac Life Support (ACLS), Basic Cardiac Life Support (BCLS), Advanced Neonatal Life Support (ANLS), Pediatric Advanced Life Support (PALS), and Advanced Life Support in Obstetrics (ALSO).
Dr. Welch's academic and clinical interests include Integrative Medicine, Behavioral Medicine, Health and Lifestyle Medicine and Transgender Primary Care.
Dr. Welch is holds a level 1 certification in Rieki, is a registered yoga teacher and has an interest in cooking "healing cuisine."
Medical/Professional School:
University of Texas Medical Branch - Galveston, TX, MD, 2012
Residencies:
Family Medicine, University of Texas Medical Branch - Galveston, TX, 2015
UTMB Health Family Medicine - Island East, Galveston
400 Harborside Drive
Galveston, TX 77550
Fax: (409) 772-2663
---
UTMB Health Family Medicine - Island West, Galveston
6710 Stewart Road
Galveston, TX 77551
Fax: (409) 740-4187
---