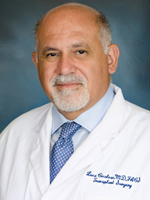 Specialties: Transplant Surgery
Languages: English,Italian
Dr. Cicalese was born in Rome, Italy and earned his MD and did his General Surgery Residency at the University of Rome, "La Sapienza", Rome, Italy, that is one of the largest and prestigious Universities in Europe. Dr. Cicalese did his Clinical Fellowship in Transplant Surgery at the T.E. Starzl Transplantation Institute, at the University of Pittsburgh, one of the most prestigious Transplant centers in the World.
Dr. Cicalese is a surgeon with over 25 years of clinical experience in transplantation, general and hepatobiliary surgery in academic institutions in the US. He has been Director of the Intestinal and Pediatric Liver Transplant Program at the University of Illinois at Chicago. In 2002, Dr. Cicalese became the Section Chief of the Liver and Intestinal Transplantation Program at the University of Massachusetts. While there, he successfully performed the first living-related small bowel transplant in New England. In 2007 Dr. Cicalese came to work at the University of Texas Medical Branch (UTMB) where he has been Director of the Transplant Center and later Hepatobiliary Surgery in the Department of Surgery. He also developed an international PhD program in collaboration with the University of Palermo, Italy.
Dr. Cicalese's research interests are in transplantation, cancer, organ regeneration and role of immunosuppressive drugs on Neurodegenerative diseases. He is the author and co-author of over 100 peer-reviewed publications, has been the P.I. (Primary Investigator) or Co-P.I. on over 30 grants and trials, is the author or co-author on 8 book chapters. Dr. Cicalese has also received numerous honors and awards, including: PhD "honoris causa" from the University of Palermo; honored for "Best Career of Italian Scientists in the USA"; Texas Super Doctors; selected as "one of the 10 most successful Italians in the US" for a biography book entitled "PRIMI DIECI" by Riccardo Lo Faro among many others.
Medical/Professional School:
University of Rome - Rome, Italy, MD, 1990
Residencies:
General Surgery, University of Rome - Rome, Italy, 1995
Fellowships:
Transplant Surgery, University of Pittsburgh - Pittsburgh, PA, 1998
---
Certifications:
Surgery,American College of Surgeons
UTMB Health General Surgery - League City Campus Clinics
2240 Gulf Freeway South #2.100
League City, TX 77573
Fax: (281) 309-0419
---
UTMB Health Transplant Clinic - Multispecialty Center
2660 Gulf Freeway South #3
League City, TX 77573
Fax: (281) 337-0836
---
Why do some providers have no ratings?
At UTMB, a provider's ratings are only posted when she/he has a minimum of 30 completed surveys within the past twelve months. New-to-UTMB providers or individuals in less common areas of practice may be temporarily under this threshold. We set this baseline to ensure we offer the most accurate reflection of each Individual.
Read more about Ratings and Comments