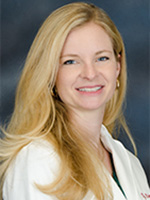 Clinical Assistant Professor
Dr. Robyn Roberts was born in New Zealand and obtained a Bachelors of Science at Biology Portland State University in 2004. She then went on to study Public Health at Tulane School of Public Health and Tropical Medicine; however, in 2006 her studies would be interrupted due to Hurricane Katrina. Dr. Roberts attended the Louisiana State University from 2006 to 2010 in New Orleans where she received a Doctorate of Medicine in 2010. After completion of her Urology Residency Training (2010-2015) at the University of Texas Medical Branch, she became Assistant Professor in the Department of Surgery, Division of Urology. Dr. Roberts holds the Jane and Roland Blumberg Professorship for Women's Urologic Health and Innovation.
She is actively involved in research activities. Dr. Roberts became a member of the American Urological Society in 2010 and is also a member of the Society of Women in Urology as of 2013. She was honored with the Surgical Intern of the Year award (2010-2011) by the University of Texas Medical Branch. Additionally, she was nominated and received the Thayer Award for Excellence in Teaching in 2015 by the John P. McGovern Academy of Oslerian Medicine.
Medical/Professional School:
Louisiana State University School of Medicine - New Orleans, LA, MD, 2010
Residencies:
Urology, University of Texas Medical Branch - Galveston, TX, 2015
Internships:
General Surgery, University of Texas Medical Branch - Galveston, TX, 2011
---
Certifications:
Urology,American Board of Urology