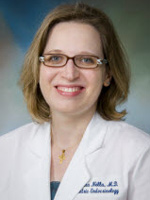 Dr. Nella is a Pediatric Endocrinologist and Assistant Professor of Pediatrics, Division of Pediatric Endocrinology at the University of Texas Medical Branch in Galveston. She received her Medical Degree from the Aristotle University of Thessaloniki in Greece. She subsequently pursued post-doctoral research training as a basic science research scholar at the University of Nebraska, where she studied the effects of oxidative stress on mitochondrial function. She completed her pediatric residency at the University of Nebraska - Creighton University Health Foundation Program, and pediatric endocrinology fellowship at the Eunice Kennedy Shriver National Institute of Child Health and Human Development (NICHD) of the National Institutes of Health. Dr. Nella is certified by the American Board of Pediatrics and Pediatric Endocrinology.
Dr. Nella has expertise in the diagnosis and treatment of common pediatric endocrine diseases, such as pediatric diabetes, thyroid, puberty and growth disorders, hypopituitarism, and congenital adrenal hyperplasia. She also has experience in the treatment of rare pediatric endocrine disorders, such as pediatric thyroid cancer, multiple endocrine neoplasia syndromes, pheochromocytoma, Cushing disease and syndrome, lipodystrophies and McCune-Albright syndrome.
Dr. Nella has published her research work in prominent journals of her field and she has been invited to present her research in national and international conferences. She is a member of the American Academy of Pediatrics, the Pediatric Endocrine Society and the Endocrine Society. Her current research interests include new treatments in congenital adrenal hyperplasia and mitochondrial dysfunction in type 2 diabetes mellitus in children. She is actively involved in research projects with the National Institutes of Health and the University of Texas Medical Branch in Galveston.
Medical/Professional School:
Aristotle University of Thessaloniki - Greece, MD, 2008
Internships:
Pediatrics, University of Nebraska Medical Center - Omaha, NE, 2009
Residencies:
Pediatrics, University of Nebraska Medical Center - Omaha, NE, 2011
Fellowships:
Pediatric Endocrinology, National Institute of Child Health and Human Development - Bethesda, MD, 2014
---
Certifications:
American Board of Pediatrics, Pediatrics
American Board of Pediatrics, Pediatric Endocrinology
UTMB Health Pediatric Endocrinology - Bay Colony
2785 Gulf Freeway South Suite 2.200
League City, TX 77573
Fax: (409) 772-3680
---