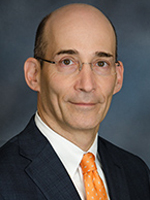 Specialties: Surgery - General|Surgical Oncology
Dr. Tyler's clinical practice focuses on GI cancers, melanoma, and sarcoma. He has pioneered neoadjuvant approaches using chemotherapy and/or radiation to tumors of the stomach and pancreas as well as the application of minimally invasive surgery to tumors of the GI tract. He is an expert in the management of regionally advanced and in-transit melanoma and oversees novel clinical trials to manage this form of disease. Dr. Tyler also has extensive experience managing retroperitoneal and abdominal wall sarcomas.
Dr. Tyler serves as chairman of the UTMB Health Department of Surgery and is the holder of the John Woods Harris Distinguished Chairman, Department of Surgery.
Medical/Professional School:
Dartmouth Medical School - Hanover, NH, MD, 1985
Residencies:
General Surgery, Duke University Medical Center - Durham, NC, 1992
Fellowships:
Surgical Oncology, MD Anderson Cancer Center - Houston, TX, 1994
Internships:
General Surgery, Duke University Medical Center - Durham, NC, 1986
---
Certifications:
Surgery,American Board of Surgery
UTMB Health General Surgery - Galveston
1005 Harborside Drive
Galveston, TX 77550
Fax: (409) 772-4456
---
UTMB Health General Surgery - Webster
17448 Highway 3
Webster, TX 77598
---