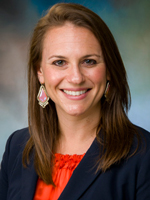 Specialties: Gastroenterology - Pediatric
Dr. Andrea M. Glaser is the director of the Division of Pediatric Gastroenterology and a professor in the Department of Pediatrics. She received her MD from The University of Texas Health Science Center at Houston and completed her Pediatric residency as well as Pediatric Gastroenterology Fellowship at The University of Texas at Houston as well.
Dr. Glaser specializes in pediatric gastroenterology and sees patients with gastrointestinal diseases from the birth through adolescence. She has expertise in diagnosing common gastrointestinal issues such as failure to thrive, reflux, constipation, encopresis, and vomiting. She also sees patients with more rare conditions such as inflammatory bowel disease, eosinophilic esophagitis, recurrent abdominal pain, motility disorders, and liver disease. Dr. Glaser has a particular interest in nutrition and infant feeding disorders and has conducted research regarding medications used to treat reflux in infancy.
Dr. Glaser is board certified by the American Board of Pediatrics in General Pediatrics and in Pediatric Gastroenterology.
Medical/Professional School:
University of Texas Medical School - Houston, TX, MD, 2009
Residencies:
Pediatrics, University of Texas Health Science Center - Houston, TX, 2012
Fellowships:
Pediatric Gastroenterology, University of Texas Health Science Center - Houston, TX, 2015
UTMB Health Pediatric Primary and Specialty Care, Bay Colony
2785 Gulf Freeway South #2.200
League City, TX 77573
Fax: (409) 772-3680
---
Why do some providers have no ratings?
At UTMB, a provider's ratings are only posted when she/he has a minimum of 30 completed surveys within the past twelve months. New-to-UTMB providers or individuals in less common areas of practice may be temporarily under this threshold. We set this baseline to ensure we offer the most accurate reflection of each Individual.
Read more about Ratings and Comments