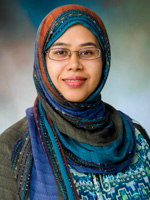 Departments: Internal Medicine
Specialties: Sleep Medicine
Dr. Sultana is a Pediatric Sleep Medicine Specialist, trained in general pediatrics and adult/pediatric sleep medicine. She is an Assistant Professor in the Department of Internal Medicine. She completed her Pediatric Residency at Texas Tech University Health Sciences Center in El Paso and her Sleep Medicine Fellowship from Baylor Colleg of Medicin in Houston, TX.
Dr. Sultana has research interests in sleep apnea and obesity in children, insomnia and behavior problems in children, narcolepsy, circadian rhythm problems and parasomnias.
Medical/Professional School:
Hamdard College of Medicine and Dentistry - Karachi, Pakistan, MD, 2000
Residencies:
Pediatrics, Texas Tech University - Lubbock, TX, 2013
Fellowships:
Sleep Medicine, Baylor College of Medicine - Houston, TX, 2015
UTMB Health Pulmonary - Galveston
1005 Harborside Drive
Galveston, TX 77550
Fax: (409) 774-0777
---
UTMB Health Pulmonary - Multispecialty Center
2660 Gulf Freeway South #2
League City, TX 77573
Fax: (281) 337-0704
---
Why do some providers have no ratings?
At UTMB, a provider's ratings are only posted when she/he has a minimum of 30 completed surveys within the past twelve months. New-to-UTMB providers or individuals in less common areas of practice may be temporarily under this threshold. We set this baseline to ensure we offer the most accurate reflection of each Individual.
Read more about Ratings and Comments