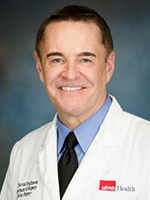 Specialties: Cardiovascular and Thoracic Surgery|Congenital Heart Surgery
Dr. Patrick Roughneen hails from Ireland and was educated in Great Britain. He attended Medical School in England and completed his General Surgery residency training at The University of Texas Medical School at Houston, he later entered Cardiac Surgical Residency Training at The Texas Heart Institute in Houston under the direction of Dr. Denton Cooley. Following this he pursued an additional Fellowship in Congenital Heart Surgery at the Hospital For Sick Children in London, England, thereafter returning to the United States.
Dr. Roughneen was formerly Assistant Professor of Cardiac Surgery at Loyola University Chicago and Clinical Associate Professor of Cardiac Surgery at The University of Texas Southwestern Medical School while in practice in Dallas. He is now currently appointed as Associate Professor of Cardiac Surgery at UTMB.
During his career Dr. Roughneen has been an invited reviewer for several esteemed medical journals to advance knowledge in cardiac surgery and has published over fifty articles in peer review journals. He has a particular interest in Adult Congenital Heart Surgery, Valve Surgery and Surgery for Heart Failure patients. He was also Founded and served as Chairman Of Premier Patient Healthcare, one of the most successful Accountable Care Organizations in Texas aimed at providing quality, affordable healthcare to Medicare and Privately Insured patients in Texas. He is also a member of several esteemed medical societies and was appointed as Fellow of the Royal College of Surgeons of England.
He is also actively involved in improvements in Healthcare Quality in the State of Texas and has testified to the 86th Texas Legislature in Austin in 2015 on behalf of patients and physicians. He has also chaired and served on several hospital patient quality assurance committees. In his spare time Dr. Roughneen is avid in his pursuit of golf, fitness and travel.
Medical/Professional School:
University of Leicester - Leicester, England, MD, 1982
Residencies:
General Medicine and Cardiology, Falkirk Royal Infirmary - Falkirk, Scotland, 1983
General Surgery and Transplantation, Professional Surgical Unit, Western Infirmary - Glasgow, Scotland, 1983
Surgical Specialties (Neurosurgery, Orthopaedics, Accident and Emergency Medicine), Western Infirmary and Southern General Hospital - Glasgow, Scotland,
General Surgery, University of Texas Medical School - Houston, TX, 1991
Cardiothoracic Surgery, Texas Heart Institute - Houston, TX, 1993
Pediatric Cardiac Surgery, Great Ormond Street Hospital for Sick Children - London, England,
Senior registrar in Pediatric Cardiac Surgery, Harley Street Clinic - London, England,
Fellowships:
Surgical Research (Surgical Immunology), University of Texas Medical School - Houston, TX,
---
Certifications:
Thoracic Surgery,American Board of Thoracic Surgery
UTMB Health Cardiovascular and Thoracic Surgery - Galveston
1005 Harborside Drive
Galveston, TX 77550
Fax: (409) 772-4456
---
Why do some providers have no ratings?
At UTMB, a provider's ratings are only posted when she/he has a minimum of 30 completed surveys within the past twelve months. New-to-UTMB providers or individuals in less common areas of practice may be temporarily under this threshold. We set this baseline to ensure we offer the most accurate reflection of each Individual.
Read more about Ratings and Comments