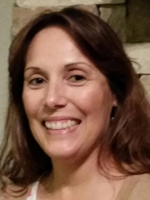 Cindy Medina, MSN, WHNP-BC
Women's Healthcare Specialist
Departments: Obstetrics & Gynecology
Cindy Medina is a B.O.I. (Born on Island), both her and her husband were born and raised in Galveston, Texas. She has been with University of Texas Medical Branch since high school. She has worked in various departments such as Pharmacy, Billing, Newborn Nursery, and Labor and Delivery. She now works as a Certified Nurse Practitioner for the Maternal Fetal Medicine Division in the Department of OB/Gyn. Her main focus is high risk obstetrical patients. She has four kids that all live in Galveston County.
No Education Details to Display
---
Certifications:
, Women's Health Care Nurse Practitioner
, NCC Certified Inpatient Obstetric Nurse
No Location data to display
Why do some providers have no ratings?
At UTMB, a provider's ratings are only posted when she/he has a minimum of 30 completed surveys within the past twelve months. New-to-UTMB providers or individuals in less common areas of practice may be temporarily under this threshold. We set this baseline to ensure we offer the most accurate reflection of each Individual.
Read more about Ratings and Comments