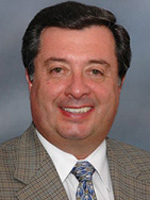 Dr. Eduardo Orihuela was born in Cuzco, Peru and completed his medical education at the Cayetano Heredia University in Lima, Peru in 1973. He did a residency in General Surgery and Internal Medicine at the San Felipe Clinic in Lima, Peru from 1973-1976. He did General Surgery Residency Program at the Union Memorial Hospital in Baltimore, Maryland from 1976-1978 and did his residency training in urologic surgery at the University of Pittsburgh, Pennsylvania from 1978-1982. He did one year of fellowship in urologic oncology research at the University of Pittsburgh (1981). He then did a fellowship in urologic oncology at the Memorial Sloan Kettering Cancer Center in New York, NY from 1982-1984.
Dr. Orihuela moved to the Long Island Jewish Hospital in New York as Assistant Professor in Urologic Surgery and Chief of the Urologic Oncology Program from 1985-1989. He came to the University of Texas Medical Branch (UTMB) in 1989 as Associate Professor of Urology and Section Head of Urologic Oncology. He obtained tenure at UTMB in 1993. In 1995, Dr. Orihuela was promoted to full Professor of Urology and was also appointed Adjunct Professor of Radiology. In 2006, Dr. Orihuela was appointed as interim chief of the Division of Urology at UTMB, and he was officially appointed as Chief of the Division in 2007. At the same time, in 2007, he was appointed Director of the Urology Residency Program and Medical Director of the UTMB Urology Clinics.
He has been actively involved in the progress of the Division of Urology. Under his guidance, the Division of Urology has implemented several clinical initiatives and modernized the services and patient care, in the Galveston campus and off campus locations, and TDC. Patient care has significantly expanded and strengthened. Dr. Orihuela has also implemented several initiatives that have had significant impact in the care of patients with urological malignancies, i.e. Robotic Surgery, Multidisciplinary Tumor Board. As Director of the Urology Residency Program, Dr. Orihuela has also and maintained a fully approved and successful program, with 100% Board Certification rate.
Dr. Orihuela has also been active in service and committees in the Department of Surgery, the UTMB institution, and National and International professional societies. Also, active in Intramural and National-International teaching, and in research. Has received several professional awards during his career. Likewise, special urology fellows and residents have received numerous awards under Dr. Orihuela's preceptorship. Dr. Orihuela has been visiting professor and lecturer on multiple occasions at national and international societies and medical schools.
Medical/Professional School:
University Peruana Cayetano Heredia - Lima, Peru, MD, 1973
Internships:
Rotating, Cayetano Heredia University Hospital - Lima, Peru, 1973
Residencies:
General Surgery, Union Memorial Hospital - Baltimore, MD, 1978
Urology, University of Pittsburgh - Pittsburgh, PA, 1982
Fellowships:
Urologic Oncology, University of Pittsburgh - Pittsburgh, PA, 1981
Urologic Oncology, Memorial Sloan-Kettering Cancer Center - New York City, NY, 1984
---
Certifications:
American Board of Urology, Urology
10121 Emmett F. Lowry Expressway
Texas City, TX 77591
Fax: (409) 986-7890
2280 Gulf Freeway South Suite 2.1600
League City, TX 77573
Fax: (832) 505-4040
1005 Harborside Drive 5th Floor
Galveston, TX 77555
Fax: (409) 772-4456