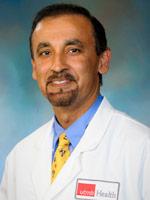 Languages: English, Hindi, Spanish, Urdu
Dr. Syed K. Kazmi joined UTMB Pediatric Community Based Clinics in 1994. He is board certified by the American Board of Pediatrics. He received his doctorate from Universidad Technologica de Santiago Santo Domingo in the Dominican Republic and his masters of public health from Tulane School of Public Health in New Orleans, Louisiana.
Dr. Kazmi has a special interest in community health education and the uses of homeopathic medicines, earning a diploma in Homeopathy from Galein College, United Kingdom.
In addition to serving as the Medical Director of UTMB Health Pediatrics in Alvin, Dr. Kazmi is the Medical Director of a Houston based charity clinic. He is an active member of the community, working with the Alvin Independent School District as a consultant and as the Alvin City Health Officer.
Dr. Kazmi sees general pediatric patients and is multi-lingual in English, Spanish, Urdu, Hindi, and Punjabi.
Medical/Professional School:
Universidad Tecnológica de Santiago - Santiago de los Caballeros, Dominican Republic, MD, 1986
Internships:
Pediatrics, Children's Hospital of Pittsburgh - Pittsburgh, PA, 1991
Residencies:
Pediatrics, Children's Hospital of Pittsburgh - Pittsburgh, PA, 1993
Fellowships:
Public Health & Tropical Diseases, Tulane University School of Medicine - New Orleans, LA,, 1989
---
Certifications:
American Board of Pediatrics, Pediatrics
2020 East Highway 6
Alvin, TX 77511
Fax: (281) 585-3819