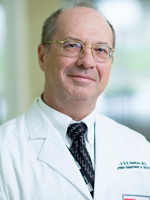 Dr. Gary Hankins is Professor and Chair of the department of Obstetrics and Gynecology, Garland D. Anderson, MD, Distinguished University Chair in Maternal-Fetal Medicine. Dr. Hankins is known nationally for his clinical expertise in obstetrics as well as his research, particularly in the field of maternal-fetal medicine. In the past decade, he has been named an "America's Top Doctor" eight times and "Texas Super Doctor" two times. He has authored or co-authored more than 230 scholarly articles, 40 book chapters, 10 books, and hundreds of abstracts.
Dr. Hankins spearheads a Department of Obstetrics and Gynecology that is among the most productive and innovative of its kind in the world. The department's faculty, under Dr. Hankins' leadership, have achieved pioneering insights into the fetal origins of adult diseases, the implications of pregnancy for women's long-term health, the development of screening tools for maternal alcohol consumption, and the development of pharmaceuticals designed specifically for expectant mothers.
Over his career, Dr. Hankins has worked closely with the American College of Obstetricians and Gynecologists, serving in multiple leadership positions. He was a co-chairman of the Pregnancy and Infant Working Group of the National Children's Study sponsored by the National Institutes of Health (NIH) and has been instrumental to the progress achieved on the International Prenatal Alcohol and SIDS and Stillbirth Network. Dr. Hankins has served as a principal investigator on a number of national multicenter and network projects, including the ongoing Obstetric Pharmacology Research Units investigative studies and the Women's Reproductive Health Research training program, both sponsored by the NIH.
Dr. Hankins earned his medical degree at the Medical College of Virginia. He completed his residency in obstetrics and gynecology as well as completing a fellowship in critical care medicine at Wilford Hall USAF Medical Center in San Antonio, Texas, followed by additional specialized training in maternal-fetal medicine at the University of Texas Southwestern Medical School. Dr. Hankins joined UTMB in 1995 as chief of the Maternal-Fetal Medicine division of the Department of Obstetrics & Gynecology and has served as chairman of the department since 2007.
Medical/Professional School:
Medical College of Virginia School of Medicine - Richmond, VA, MD, 1973
Internships:
Ob/Gyn, Wilford Hall USAF Medical Center - San Antonio, TX, 1978
Residencies:
Ob/Gyn, Wilford Hall USAF Medical Center - San Antonio, TX, 1981
Fellowships:
Critical Care Medicine, Wilford Hall USAF Medical Center - San Antonio, TX, 1982
Maternal & Fetal Medicine, University of Texas Southwestern - Dallas, TX, 1984
---
Certifications:
American Board of Obstetrics and Gynecology, Obstetrics and Gynecology
American Board of Obstetrics and Gynecology, Maternal and Fetal Medicine
No location details to display
Why do some providers have no ratings?
A provider may have no ratings for several reasons. A provider's ratings are only posted when she/he has a minimum of 30 completed surveys within the past twelve months. New-to-UTMB providers or individuals in less common areas of practice may be temporarily under this threshold. Also, the UTMB Health provider directory includes listings for independent community physicians and other health care providers who serve patients in our facilities. Ratings for these individuals, who are part of their own private practices, are not currently available to us.
Read more about Ratings and Comments