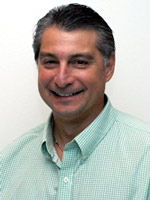 Larry Micheletti, PhD, LCSW
Dr. Micheletti is an Assistant Professor in the Department of Pediatrics. He received his BS in Psychology from University of Houston Clear Lake and his MA and PhD from the University of Houston Graduate School of Social Work. In his clinical practice, he works with children and young adults from 6 years old to college age students. His clinical practice is on the island working at both Island Pedi East (PCP) and Island Pedi West. Dr. Micheletti specializes in providing counseling services to children, adolescents, young adults and their families in various areas of mental health including ADHD, anxiety, depression, and stress related disorder. His psychotherapy approach includes Cognitive Behavioral Therapy, Motivational Interviewing, and other alternative therapies to reduce stress. Dr. Micheletti has extensive training and practice using biofeedback as one of his methods to help individuals gain control of their emotions.
Dr. Micheletti, is a field instructor for the Graduate School of Social Work at University of Houston and a field instructor for the University of Houston social work program in Clear Lake. In addition, he has lectured at St. George's University in Grenada focusing on teaching medical students in Integrated Medicine techniques.
Medical/Professional School:
University of Houston Graduate School of Social Work - Houston, TX, LCSW, 1991
University of Houston - Houston, TX, MD, 1999
6416 Broadway
Galveston, TX 77551
Fax: (409) 772-3680
Why do some providers have no ratings?
A provider may have no ratings for several reasons. A provider's ratings are only posted when she/he has a minimum of 30 completed surveys within the past twelve months. New-to-UTMB providers or individuals in less common areas of practice may be temporarily under this threshold. Also, the UTMB Health provider directory includes listings for independent community physicians and other health care providers who serve patients in our facilities. Ratings for these individuals, who are part of their own private practices, are not currently available to us.
Read more about Ratings and Comments