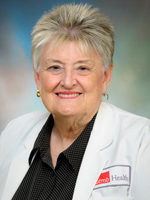 Dr. Richardson is Professor and Chair, Department of Pediatrics, and Director of the Division of Neonatology. She holds the John Sealy Centennial Distinguished Chair in Neonatology and the John Sealy Distinguished Chair in Pediatrics. She is a Scholar in the John P. McGovern Academy of Oslerian Medicine and is the UTMB Institutional Emergency Preparedness Officer.
Dr. Richardson received her B.A. degree in Zoology from the University of Texas at Austin and her MD degree from the University of Texas Medical Branch in Galveston, where she also completed her residency in Pediatrics. She completed her fellowship in Neonatal-Perinatal Medicine at the University of California, San Diego/LaJolla School of Medicine. Dr. Richardson has been a member of the UTMB faculty since 1974. She has held many administrative positions in the department and the institution, serving as Medical Director of UTMB Inpatient Services from 1999 to 2007 and Assistant Dean for Faculty Practice from 2004 to 2007. Before becoming Chair of the Department, she was Vice Chair from 1991-2008. Her interests center around medical education, health care administration, faculty development, and care of the high risk newborn.
Medical/Professional School:
University of Texas Medical Branch - Galveston, TX, MD, 1970
Internships:
Pediatrics, University of Texas Medical Branch - Galveston, TX, 1971
Residencies:
Pediatrics, University of Texas Medical Branch - Galveston, TX, 1972
Fellowships:
Neonatology, University of California - San Diego, CA, 1974
---
Certifications:
American Board of Pediatrics, Pediatrics
American Board of Pediatrics, Neonatal-Perinatal Medicine
No location details to display
Why do some providers have no ratings?
A provider may have no ratings for several reasons. A provider's ratings are only posted when she/he has a minimum of 30 completed surveys within the past twelve months. New-to-UTMB providers or individuals in less common areas of practice may be temporarily under this threshold. Also, the UTMB Health provider directory includes listings for independent community physicians and other health care providers who serve patients in our facilities. Ratings for these individuals, who are part of their own private practices, are not currently available to us.
Read more about Ratings and Comments