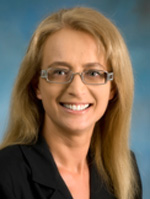 Languages: English, Italian
Dr. Volpi attended the School of Medicine of the University of Perugia, Italy, and graduated in 1989. There she also completed her Internship in Internal Medicine, her Residency in Endocrinology and Diabetes and her Ph.D. as well.
Dr. Volpi is an Expert on Aging. She is Daisy Emery Allen Distinguished Chair in Geriatric Medicine, the Director of the Claude D. Pepper Older Americans Independence Center, and the Associate Director of the Institute for Translational Sciences.
Dr. Volpi is licensed to practice medicine in the states of Texas and California, and in Italy.  She is also certified by the Italian Board of Endocrinology.
Her research focuses on understanding the mechanisms of muscle loss in older adults and finding new treatments to improve muscle function and promoted independence in seniors.
Dr. Volpi specializes in Geriatric Diabetes.

Medical/Professional School:
Università degli Studi di Perugia - Perugia, Italy, MD, 1989
Università degli Studi di Perugia - Perugia, Italy, PhD, 1995
Internships:
Rotating Internship, Policlinico Di Perugia - Perugia, Italy, 1989
Residencies:
Endocrinology, Università degli Studi di Perugia - Perugia, Italy, 1991
Endocrinology, Università degli Studi di Perugia - Perugia, Italy, 1998
Fellowships:
Diabetes and Metabolism, Università degli Studi di Perugia - Perugia, Italy, 1995
---
Certifications:
Italian Board of Medical Examiners,
Italian Board of Endocrinology, Endocrinology
United States Medical Licensing Examination,
Education Commission for Foreign Medical Graduates, United States Medical License
2660 Gulf Freeway South Suite 1
League City, TX 77573
Fax: (281) 337-0704