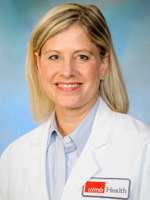 Departments: Community Based Clinics
Amy Haverty received her Bachelors of Science in Nursing from Marquette University in Milwaukee, Wisconsin in 1994. She spent five years as an RN on active duty with the Army. While in the Army, Amy worked in the Neonatal Intensive Care Unit, the Pediatrics Unit, and the Combat Support Hospital. In 1999 Amy joined UTMB Pediatric Associates in Galveston, working as Nursing Manager. She joined UTMB Pediatric Associates Alvin in 2007, after earning her Master's of Science in Nursing from UTMB, specializing in pediatrics. Amy has recently transferred to the Friendswood Pediatric and Adult Care Clinic to continue taking care of patients.
Amy is board certified as a Pediatric Nurse Practitioner. Her special interests include child nutrition and immunizations. Amy volunteers with local scouting organizations, providing medical services and training.
No Education Details to Display
---
Certifications:
Texas Board of Nurse Examiners, Registered Nurse
Pediatric Nurse Certification Board, Certified Pediatric Nurse Practitioner-Primary Care
UTMB Health Pediatric and Adult Primary Care - Friendswood
128 West Parkwood Avenue
Friendswood, TX 77546
Fax: (281) 482-3963
---