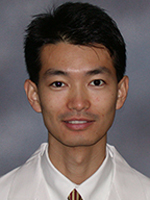 This individual is in a non-scheduling role
Dr. Jong Lee received his medical degree from Temple University School of Medicine in Philadelphia, Pennsylvania. He went on to complete general surgery residency at Conemaugh Memorial Medical Center/Temple University School of Medicine in Johnstown, Pennsylvania. He then completed fellowships in Burn Surgery and Surgical Critical Care at the University of Texas Medical Branch (UTMB) in Galveston, Texas. After finishing his fellowship, he joined the UTMB faculty in the Department of Surgery in 2002 and has robust practice in burn surgery at UTMB and Shriners Hospitals for Children – Galveston.
He is currently a holder of the Annie Laurie Howard Chair in Burn Surgery and is an Associate Director of Burn Services. He is also a Medical Director of Burn Intensive Care Unit at the Shriners Hospitals for Children – Galveston.
Dr. Lee is active in teaching medical students, general surgery residents, and fellows and serves as a Program Director for the Surgical Critical Care Fellowship and the Burn Fellowship. He has trained 13 Critical Care Fellows and Burn Fellows. He received five teaching awards from the Department of Surgery.
Dr. Lee is involved in clinical research in burn care and collaborates with other scientists. His areas of research interests are burn resuscitation, nutrition, hypermetabolism, and infection. He has published 26 articles in peer-reviewed journals and 15 book chapters. He is a journal reviewer for Burns Journal and Journal of Burn Care & Research.
Dr. Lee is a member of several professional organizations, including the American College of Surgeons and the International Society for Burn Injuries. He is actively involved in the American Burn Association and has served on its Education Committee and is newly appointed to its National Burn Repository Advisory Committee. He is also actively involved in the Society of Critical Care Medicine and served on its Surgical Section Patient Safety Committee, Multidisciplinary Critical Care Knowledge Assessment Program Committee, Post Graduate and Fellowship Committee, and Current Concepts in Critical Care Pediatric Course Committee. He also serves on several committees at UTMB and the Shriners Hospitals for Children – Galveston. He has spoken locally, nationally, and internationally on burn care.
He is currently a Lieutenant Colonel in the 147th Medical Group of Texas Air National Guard and serves as Critical Care Air Transport Team Member and Medical Director of Infection Control Function and EMT.
Medical/Professional School:
Temple University School of Medicine - Philadelphia, PA, MD, 1996
Internships:
General Surgery, Conemaugh Valley Memorial Hospital - Johnstown, PA, 1997
Residencies:
General Surgery, Conemaugh Valley Memorial Hospital - Johnstown, PA, 2001
Fellowships:
Burn Surgery, Shriner's Burn Hospital for Children - Galveston, TX, 2002
---
Certifications:
American Board of Surgery, Surgery
American Board of Surgery, Surgical Critical Care
No location details to display