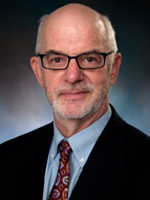 Dr. Charles Dreyer is an Associate Professor of Pediatrics at UTMB, in the Division of Neurology. He specializes in Child Neurology providing care for children and adolescents with known or suspected neurological disorders, congenital, or acquired. He is a US Army Veteran and initially joined UTMB as Assistant Professor and the Director of Neurology in 1985.
He received his MS from Florida State University in Tallahassee, Florida, and he received his MD from the University of Missouri in Columbia, Missouri. Dr. Dryer completed his pediatric residency here at UTMB and followed it up by completing his post-doctoral fellowship in Child Neurology at UTMB as well. Dr. Dreyer's career took him across the United States, serving as the director of resident programs and lecturer to many different health professionals. In 2001 he returned to Galveston as Associate Professor and was Division Chief of Child Neurology until 2019.
Dr. Dreyer is board certified by the American Board of Pediatrics in Pediatrics and by the American Board of Psychiatry and Neurology with a special qualification in Child Neurology.
Medical/Professional School:
University of Missouri - Columbia, MO, MD, 1979
Internships:
Pediatrics, University of Texas Medical Branch - Galveston, TX, 1981
Residencies:
Neurology, University of Texas Medical Branch - Galveston, TX, 1984
---
Certifications:
American Board of Pediatrics, Pediatrics
American Board of Psychiatry and Neurology, Neurology
No location details to display