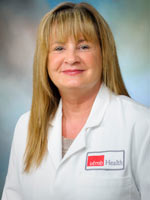 Departments: Community Based Clinics
Cathy Green is a native Texan. She has worked at UTMB in Galveston as an RN since 2002. She graduated from UTMB in Galveston with her Master's Degree in Nursing specializing as a Family Nurse Practitioner.
Cathy joined the Community Based Clinics in Angleton October 2016. She also has experience in Pain Management using a multimodal approach helping patients deal with chronic pain using medications and interventional treatments.
Cathy is board certified as a Family Nurse Practitioner by the American Academy of Nurse Practitioners and is an active member of the American Association of Nurse Practitioners and the Sigma Theta Tau Honor Society.
Cathy is a Bay City native and in her spare time she enjoys going to the beach, swimming and skiing with her husband and daughter. She believes in staying active and healthy to enable the body to live life to the fullest. Her ultimate goal is to participate in a mission trip to Central America.
No Education Details to Display
UTMB Health Pediatric and Adult Primary Care - Angleton
146 East Hospital Drive Suite 103
Angleton, TX 77515
Fax: (979) 864-3054
---
UTMB Health Pediatric and Adult Primary Care - Angleton
146 East Hospital Drive Suite 103
Angleton, TX 77515
Fax: (979) 864-3054
---