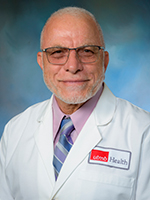 Ashraf Aly, MD, PhD, MSc, FACC, FAAP
Dr. Ashraf Aly is the director of the Division of Pediatric Cardiology and a professor in the Department of Pediatrics. He received his M.D. from Cairo University School of Medicine in Cairo, Egypt and completed his Pediatric residency at Penn State University, Hershey Medical Center, Hershey, Pennsylvania and Pediatric Cardiology Fellowship at Wayne State University in Detroit, Michigan. He received his Ph.D. in Genetics from the George Washington University in Washington DC.
Dr. Aly specializes in Pediatric Cardiology and sees patients with possible congenital heart diseases from the fetal life throughout adulthood. 
Before joining UTMB in 2003, Dr. Aly was in private practice in Michigan.
Dr. Aly is board certified by the American Board of Pediatrics in both Pediatrics and Pediatric Cardiology. He is also a fellow of the American College of Cardiology, the American Academy of Pediatrics, and many other professional medical and scientific organizations.
Medical/Professional School:
Cairo University School of Medicine - Cairo, Egypt, MD, 1978
Pediatrics, Cairo University School of Medicine - Cairo, Egypt, MSc, 1984
Biochemistry/Microbiology, Al-Azhar University School of Medicine - Cairo Egypt, MSc, 1984
Genetics, George Washington University - Washington, DC, PhD, 1991
Internships:
Pediatrics, Cairo University Children's Hospital - Cairo, Egypt, 1981
Pediatrics, Hershey Medical Center - Hershey, PA, 1992
Residencies:
Pediatrics, Cairo University Children's Hospital - Cairo, Egypt, 1984
Pediatrics, Hershey Medical Center - Hershey, PA, 1994
Fellowships:
Pediatric Cardiology, Children's Hospital of Michigan - Detroit, MI, 1997
---
Certifications:
American Board of Pediatrics, Pediatrics
American Board of Pediatrics, Pediatric Cardiology
250 Blossom Street 4th Floor
Webster, TX 77598
Fax: (409) 772-3680
2750 East Broadway Street
Pearland, TX 77581
Fax: (281) 485-3506