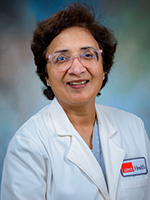 Dr. Sangeeta Jain is a Associate Professor in the department of Obstetrics and Gynecology, Maternal Fetal Medicine. She is board certified in Obstetrics and Gynecology and subspecialty Maternal Fetal Medicine by the American Board of Obstetrics and Gynecology. Her clinical interests include Medical Complications in Pregnancy, Critical Care in Pregnancy and Fetal ECHO. Dr. Jain's research interests include Preterm labor, fetal ECHO, maternal obesity and nutrition in pregnancy, simulation models in medical education.
Dr. Jain received her medical degree from Maulana Azad Medical College in Delhi, India. She did her residency at Melbourne University in Melbourne, Australia and completed her residency at the Southern University School of Medicine in Springfield, Illinois. Dr. Jain also completed fellowship at the University of Texas Medical Branch in Galveston, TX.
Dr. Sangetta Jain is a Golden Apple Award recipient for medical student education among other honors.
Medical/Professional School:
Maulana Azad Medical College - New Delhi, India, MD, 1991
Internships:
Ob/Gyn, Southern Illinois University - Carbondale, IL, 2001
Residencies:
Ob/Gyn, Maharaja Agarsain Hospital - Delhi, India, 1991
Ophthalmology, All India Institute of Medical Sciences - New Delhi, India, 1993
Ophthalmology, Veena Nursing Home and Eye Center - Delhi, India, 1993
Ob/Gyn, Mercy Hospital for Women - Melbourne, Australia, 1996
Ob/Gyn, Western Hosptial Private Bay - Footscray, Australia, 1996
Ob/Gyn, Monash Medical Center-Clayton - Victoria, Australia, 1997
Ob/Gyn, Southern Illinois University - Carbondale, IL, 2004
No location details to display
Why do some providers have no ratings?
A provider may have no ratings for several reasons. A provider's ratings are only posted when she/he has a minimum of 30 completed surveys within the past twelve months. New-to-UTMB providers or individuals in less common areas of practice may be temporarily under this threshold. Also, the UTMB Health provider directory includes listings for independent community physicians and other health care providers who serve patients in our facilities. Ratings for these individuals, who are part of their own private practices, are not currently available to us.
Read more about Ratings and Comments