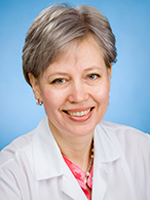 Dr. Elena Shanina joined UTMB as Assistant Professor in 2009 and was recently promoted to Associate Professor. She graduated medical school in Russia and completed her Neurology residency training at UTMB.

Dr. Shanina subspecializes in Electrodiagnostic Medicine and Neuromuscular disorders and is a member of several national and international organizations. She is certified in Neurology and Neuromuscular Medicine by American Board of Psychiatry & Neurology, in Electrodiagnostic Medicine by American Board of Electrodiagnostic Medicine, and Neurosonology by American Society of Neuroimaging.
Dr. Shanina has been the Director of the Electromyography Laboratory since 2011. She also leads Neusosonology Lab and uses high resolution ultrasound to study peripheral nerves and muscles and enhance diagnosis of neuromuscular disorders. She is performing injection procedures under ultrasound guidance to improve precision and reduce risk of complications compared to blind procedures.

She combines clinical work and teaching. Dr. Shanina serves as Clerkship Director for Neurology Clerkship and currently hold the John R. Calverley Endowed Professorship in Neurology for Education, and continues to develop new teaching methods for our newest generation of learners.

Dr. Shanina's research interests focuses on neuromuscular ultrasound, traumatic and postsurgical nerve injuries, inflammatory neuropathies, myopathies, dynamic nerve imaging, and student education.
Medical/Professional School:
Rostov State Medical University - Moscow, MD, 1990
Rostov State Medical University - Moscow, PhD, 1993
Internships:
Internal Medicine, Lincoln Medical and Mental Health Center - Bronx, NY, 1994
Residencies:
Neurology, University of Texas Medical Branch - Galveston, TX, 1995
Neurology, University of Texas Medical Branch - Galveston, TX, 2009
---
Certifications:
American Board of Psychiatry and Neurology, Neurology
American Board of Psychiatry and Neurology, Neurology
American Board of Electrodiagnostic Medicine, Electrodiagnositc Medicine
American Board of Psychiatry and Neurology, Neuromuscular Medicine
250 Blossom Street 4th Floor
Webster, Texas 77598
Fax: (832) 632-7866
250 Blossom Street 4th Floor
Webster, Texas 77598
Fax: (409) 747-2138