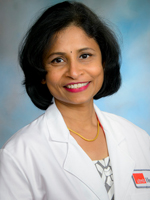 Languages: English, Hindi, Telugu
Dr. Hemamalini Pilla is an Assistant Professor in the department of Obstetrics and Gynecology. Dr. Pilla received her medical degree from Siddhartha Medical College in India. She completed her residency at Hutzel Women's Hospital, Wayne State University in Detroit in 2007.
Dr. Pilla's is board certified in Obstetrics and Gynecology.
Her clinical interests include high risk pregnancy, normal and abnormal labors, General Gynecology, robotic and minimally invasive gynecologic surgery. She also has research interests in: "Extra Amniotic Instillation of Dinoprostone with Ethacridine Lactate for Termination of Second Trimester Pregnancy" and "Glyburide in the Treatment of Type 2 Diabetes in Pregnancy".
Medical/Professional School:
Siddhartha Medical College - Vijayawada, India, MD, 1991
Residencies:
Ob/Gyn, Andhra Medical College - Andhra, India, 1998
Ob/Gyn, Wayne State Unviersity - Detroit, MI, 2007
250 Blossom Street 3rd Floor
Webster, TX 77598
Fax: (832) 632-7863