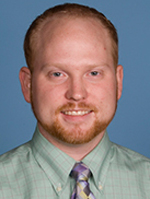 Dr. Lance Griffin is a native Texan who spent a few years of his youth growing up in Roswell, New Mexico – before returning to Texas to obtain an education and again call the state home. Graduating from Texas Tech with a degree in Biology with honors, Dr. Griffin soon matriculated at the University of Texas School of Medicine in Houston, where he cultivated an interest in surgery. He then joined the University of Texas Medical Branch family for an internship and residency in General Surgery. After completion of residency, Dr. Griffin stayed on for a fellowship in Surgical Critical Care and Burns and then joined the faculty as a trauma and critical care surgeon.
Since joining the trauma staff, Dr. Griffin has shown a keen interest in the busy clinical practice of a Level One Trauma Center. Additionally, he has been actively involved in the General Surgery Residency program, having been named as an Associate Program Director.
Dr. Griffin and his wife along with their two children enjoy living on the mainland in Friendswood, TX.
Medical/Professional School:
University of Texas Health Science Center - Houston, TX, MD, 2008
Residencies:
General Surgery, University of Texas Medical Branch - Galveston, TX, 2009
Fellowships:
Surgical Critical Care, University of Texas Medical Branch - Galveston, TX, 2014
---
Certifications:
American Board of Surgery, General Surgery
American Board of Surgery, Surgical Critical Care
No location details to display
Why do some providers have no ratings?
A provider may have no ratings for several reasons. A provider's ratings are only posted when she/he has a minimum of 30 completed surveys within the past twelve months. New-to-UTMB providers or individuals in less common areas of practice may be temporarily under this threshold. Also, the UTMB Health provider directory includes listings for independent community physicians and other health care providers who serve patients in our facilities. Ratings for these individuals, who are part of their own private practices, are not currently available to us.
Read more about Ratings and Comments