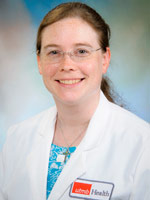 Dr. Elizabeth Jaramillo graduated with a Bachelor's degree in Science from the University of Texas Pan American in Edinburg, Texas in 2005. She attended medical school at the University of Texas Medical Branch (UTMB) in Galveston, Texas and graduated in 2009. She continued her training at UTMB with a residency in Internal Medicine, graduating in 2012, and a fellowship in Geriatrics, graduating in 2013.
She had developed an interest in health outcomes research and pursued it while seeing patients once a week. She became a Scholar with the Sealy Center on Aging, completed the Scholars in Education program, and in 2014 she was awarded a KL-2 grant, funded through the UTMB Clinical Science and Translational Award.
She became an Assistant Professor in the Institute for Translational Sciences and continued her research on overuse of cancer screening in older adults. During this time she worked toward a Masters Degree in Science (Clinical Science) and graduated in August 2015. She continued research at UTMB and started working on Project 1 of the Patient Centered Outcome Research Grant at UTMB. This evaluated older women's thoughts, beliefs, and opinions on screening mammography for breast cancer.
While she continued to see patients once a week and enjoyed her research she wanted to spend more time with patients in clinic. She started working at the UTMB Community Based Clinic in Angleton, Texas in June 2016.
Medical/Professional School:
University of Texas Medical Branch - Galveston, TX, MD, 2009
MS - Clinical Science, University of Texas Medical Branch - Galveston, TX, GSBS, 2015
Residencies:
Internal Medicine, University of Texas Medical Branch - Galveston, TX, 2012
Fellowships:
Geriatric Medicine, University of Texas Medical Branch - Galveston, TX, 2013
---
Certifications:
American Board of Internal Medicine, Internal Medicine
American Board of Internal Medicine, Geriatrics
146 East Hospital Drive Suite 205
Angleton, TX 77515
Fax: (979) 864-3054