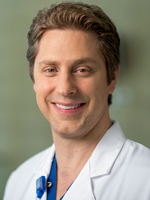 George Carayannopoulos, MD
Dr. George Carayannopoulos was born and raised in Dallas, Texas and completed all of his academic and medical training in the University of Texas educational system. After completion of his Cardiac Electrophysiology training at the University of Texas Southwestern Medical Center, he was selected as one of six cardiologists to care for all of the international athletes and staff residing in the Olympic Village for the 2004 Athens Olympic Games. Upon the completion of the Olympic Games in Athens, Greece, Dr. Carayannopoulos moved to Long Island, New York where he started Heart Rhythm Consultants of New York a practice created to address the cardiac electrophysiology needs of the community on Long Island.
During his time in New York he held the position of Clinical Assistant Professor of Medicine at the State University of New York – Stony Brook University Hospital. He also served in several leadership positions including Director of Cardiac Electrophysiology at St. Catherine of Siena Hospital, Vice-chair of Suffolk County H.E.A.R.T. (a task force he created in conjunction with the Suffolk County Health Commissioner to raise the awareness of heart disease in the community), Co-Founder of Suffolk County Life Savers (support group for at risk patients and survivors of Sudden Cardiac Arrest), and Vice President of the New York Hellenic Medical Society.
He is actively involved in the Heart Rhythm Society and has served on its Reimbursement and Regulatory Committee for six years. He is an international speaker and gives many lectures annually on Sudden Cardiac Arrest, Syncope, Congestive Heart Failure, and Medical Practice Building. In June 2010 he received Greek America Magazine's 40 most influential young Greek-Americans award. Dr. Carayannopoulos and his wife are active members in the Greek Orthodox community, and they enjoy living on Galveston Island.
Medical/Professional School:
University of Texas Southwestern - Dallas, TX, MD, 1996
Internships:
Internal Medicine, University of Texas Southwestern - Dallas, TX, 1997
Residencies:
Internal Medicine, University of Texas Southwestern - Dallas, TX, 1999
Fellowships:
Cardiology, University of Texas Southwestern - Dallas, TX, 2003
Cardiac Electrophysiology, University of Texas Southwestern - Dallas, TX, 2004
10121 Emmett F. Lowry Expressway
Texas City, TX 77591
Fax: (409) 978-4287
250 Blossom Street 4th Floor
Webster, TX 77598
Fax: (832) 632-7866
1005 Harborside Drive 6th Floor
Galveston, TX 77555
Fax: (409) 747-0777