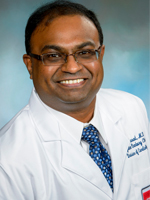 Dr. Prasad is working as a clinical cardiologist for UTMB. He is currently focused on developing cardiology practice in Angleton, TX area.
Dr. Prasad is strongly inclined towards preventive cardiology and thus guides his patients and their families to lead a healthy lifestyle. He believes in risk factor modification by providing patient centered comprehensive cardiovascular treatment options and focused education.
Dr. Prasad graduated from both Internal Medicine & Cardiology fellowship programs from Guthrie Robert Packer Hospital, Sayre, PA. During his training, he was awarded with "Resident of the year 2010" and "Teaching cardiology fellow of the year" continuously all three years in a row (2012 to 2015).
Medical/Professional School:
Sri Ramachandra Medical College and Research Institute - Chennai, India, MD, 2001
Residencies:
Guthrie Robert Packer Hospital - Sayre, PA, 2010
Fellowships:
Guthrie Robert Packer Hospital - Sayre, PA, 2015
250 Blossom Street 4th Floor
Webster, Texas 77598
Fax: (832) 632-7866
146 East Hospital Drive Suite 106
Angleton , TX 77515
Fax: (979) 848-6051