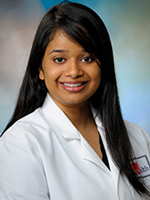 Anu George, MPAS, PA-C, joined the UTMB Division of Pediatrics Endocrinology in August 2016. She completed her training at Alderson Broaddus University in Philippi, WV.
Mrs. George is a member of the American Academy of Physician Assistant. Prior to UTMB, Mrs. George worked at a Private Family Practice in El Paso, TX.
In addition to providing medical care for pediatric patients with general endocrine disorders and diabetes mellitus, Mrs. George serves as the coordinator for growth hormone program within the Division of Pediatric Endocrinology.
No Education Details to Display
---
Certifications:
National Commission on Certification of Physician Assistants, Physician Assistant
No Location data to display
Why do some providers have no ratings?
At UTMB, a provider's ratings are only posted when she/he has a minimum of 30 completed surveys within the past twelve months. New-to-UTMB providers or individuals in less common areas of practice may be temporarily under this threshold. We set this baseline to ensure we offer the most accurate reflection of each Individual.
Read more about Ratings and Comments