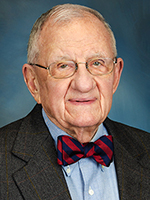 Elgene Mainous, DDS, FACD
Not accepting new patients; established patients please use MyChart
Elgene G. Mainous, DDS, FACD, is a Clinical Professor of Oral and Maxillofacial Surgery in the Department of Surgery at the University of Texas Medical Branch (UTMB). He is also the inaugural holder of the Carl E. Schow, Jr., Chair and has over fifty years of experience in oral and maxillofacial surgery.
Dr. Mainous earned his Doctor of Dental Surgery with honors from Ohio State University in Columbus, Ohio, in 1956. He then completed his dental internship from 1956-1957 at the Oakland Naval Hospital and then his dental postgraduate studies at the National Naval Medical Center in Bethesda, Maryland, from 1961-1962. Dr. Mainous went on to complete his oral surgery residency from 1965-1967 at the Portsmouth Naval Medical Center in Portsmouth, Virginia.
Early in his career, Dr. Mainous served in a variety of positions at numerous hospitals, universities, and medical centers in California, Minnesota and Texas. Then from 1976-1988, Dr. Mainous served as Professor and Chairman of the Department of Oral and Maxillofacial Surgery at the University of Mississippi Medical Center in Jackson, Mississippi.
In 1989, Dr. Mainous joined UTMB as Professor and Division Chief of Oral and Maxillofacial Surgery in the Department of Surgery, and in 1999, he was honored to be the inaugural holder of the Carl E. Schow, Jr., Chair. Dr. Mainous officially retired from UTMB in 2015, but he remained on as a faculty member.
Dr. Mainous is a member of many professional medical societies, including Fellow of the American College of Dentists and Fellow of the American Association of Oral and Maxillofacial Surgeons. He has been honored with several awards for his surgical excellence, including a Distinguished Alumni Award from Ohio State University and Recognition of 50 years of Service to the Profession of Dentistry by the Texas Dental Association. Dr. Mainous has also authored 44 peer-reviewed articles in scientific journals and nine book chapters in medical textbooks.
Medical/Professional School:
Ohio State University College of Dentistry - Columbus, OH, DDS, 1956
Internships:
Oral Surgery, Oakland Naval Hospital - Oakland, California, 1957
Residencies:
Oral Surgery, Portsmouth Naval Hospital - Portsmouth, Virginia, 1967
No location details to display
Why do some providers have no ratings?
A provider may have no ratings for several reasons. A provider's ratings are only posted when she/he has a minimum of 30 completed surveys within the past twelve months. New-to-UTMB providers or individuals in less common areas of practice may be temporarily under this threshold. Also, the UTMB Health provider directory includes listings for independent community physicians and other health care providers who serve patients in our facilities. Ratings for these individuals, who are part of their own private practices, are not currently available to us.
Read more about Ratings and Comments