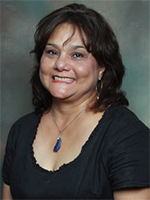 Esmeralda Barrera-Kovach, LCSW, MA, CCM
Ms. Barrera-Kovach began working with patients in the Family Medicine Clinics as a social worker in December 2014.
Ms. Barrera-Kovach earned a Bachelor of Science from the University of Texas Medical Branch at Galveston, where she studied health care administration and earned a certification in substance abuse. She earned a Master of Social Work from the University of Houston Graduate College of Social Work.
Ms. Barrera-Kovach is licensed by the Texas Department of State Health Services as Licensed Clinical Social Worker (LCSW), and is certified by the Commission for Case Manager Certification.
Ms. Barrera-Kovach provides psychological and emotional support to patients and their families, including identifying their needs, connecting them with available resources, advocating, and facilitating communication between patients and the health care team. She has 18 years of experience, including 13 years of inpatient social work at UTMB Health.
Ms. Barrera-Kovach's particular interests include promoting healthy lifestyles, behavioral medicine, teaching students of social work, educating patients and caregivers, advocating, and assisting patients and families with their healthcare issues.
Medical/Professional School:
University of Houston - Houston, TX, Master of Social Work
University of Texas Medical Branch - Galveston, TX, BS - Health Care Administration
---
Certifications:
Texas Department of State Health, Licensed Clinical Social Worker (LCSW)
400 Harborside Drive Suite 104
Galveston, TX 77555
Fax: (409) 772-2663
Why do some providers have no ratings?
A provider may have no ratings for several reasons. A provider's ratings are only posted when she/he has a minimum of 30 completed surveys within the past twelve months. New-to-UTMB providers or individuals in less common areas of practice may be temporarily under this threshold. Also, the UTMB Health provider directory includes listings for independent community physicians and other health care providers who serve patients in our facilities. Ratings for these individuals, who are part of their own private practices, are not currently available to us.
Read more about Ratings and Comments