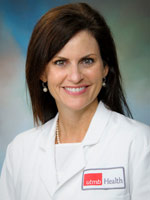 Clinical Associate Professor
Departments: Obstetrics & Gynecology
Dr. Mary Claire Haver is an Ob/Gyn at the University of Texas Medical Branch with a special emphasis on addressing all aspects of women's health— including preventive medicine, nutrition and patient education. She sees patients in Galveston. A Louisiana native, Dr. Haver received her undergraduate degree from the University of Louisiana at Lafayette; her medical degree with high honors from The Louisiana State University Medical Center in Shreveport, Louisiana; and completed her residency at UTMB, where she received the Resident Teaching Award from 1999–2001, the Outstanding Resident Teacher Award for the 2001/2002 academic year, and the UTMB Patient Service Award in 2000.
Dr. Haver is board-certified by the American Board of Obstetrics and Gynecology. Her other interests include high-risk obstetrics, gynecologic surgery, and adolescent gynecology. Dr. Haver is particularly dedicated to teaching adolescent girls about safe sex, STDs and abstinence. She also advises concerned parents about how to talk to their children about these issues.
Prior to coming to UTMB, from 2002–2005 Dr. Haver was in private practice in West Houston. She is currently a member of the Texas Medical Association, the American Medical Association, and the American College of Obstetrics and Gynecology. Dr. Haver is married and has two young children; she currently practices in Galveston.
Medical/Professional School:
Louisiana State University School of Medicine - Shreveport, LA, MD, 1998
Internships:
Ob/Gyn, University of Texas Medical Branch - Galveston, TX, 1999
Residencies:
Ob/Gyn, University of Texas Medical Branch - Galveston, TX, 2003
UTMB Health Women's HealthCare - Galveston
1005 Harborside Drive 3rd Floor
Galveston, TX 77555
Fax: (409) 747-5570
---