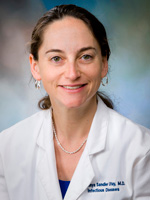 Departments: Internal Medicine
Specialties: Infectious Diseases
Dr. Utay joined UTMB in 2013 as an Assistant Professor in the Department of Internal Medicine in the Division of Infectious Diseases. She has an active research program related to the immunopathogenesis of viral infections with a specific focus on HIV and hepatitis C virus. Dr. Utay's interest in infectious diseases started during the year she spent in the Laboratory of Parasitic Diseases at the NIH as a Howard Hughes Medical Institute-National Institutes of Health Research Scholar. After returning to medical school at Baylor, she proceeded to internal medicine residency at the University of Washington and infectious diseases fellowship at the NIH, where her interest in immune activation in HIV and hepatitis C infections started. She co-chairs two clinical trials with the AIDS Clinical Trials Group (ACTG) and serves on the End Organ Disease and Inflammation Transformative Science Group and Inflammation Think Tank of the ACTG. Dr. Utay is interested in the role of gut damage, immune activation, and fibrosis in disease progression in these viral infections and their sequelae, including cardiovascular disease, malignancy, and other end-organ diseases. She is active in the clinical practice of infectious diseases including an HIV clinic and in the teaching of medical students, residents, and fellows.
Medical/Professional School:
Baylor College of Medicine - Houston, TX, MD, 2003
Residencies:
Internal Medicine, University of Washington - Seattle, WA, 2006
UTMB Health Infectious Diseases - Galveston
1005 Harborside Drive
Galveston, TX 77550
Fax: (409) 774-0777
---
Why do some providers have no ratings?
At UTMB, a provider's ratings are only posted when she/he has a minimum of 30 completed surveys within the past twelve months. New-to-UTMB providers or individuals in less common areas of practice may be temporarily under this threshold. We set this baseline to ensure we offer the most accurate reflection of each Individual.
Read more about Ratings and Comments