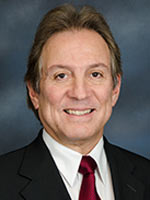 Dr. Cesar Guerrero-Barros was born and raised in Venezuela. He completed his undergraduate degree at San Ignacio Loyola and then received his doctorate in dentistry from Central University of Venezuela in Caracas in 1976. After graduation, Dr. Guerrero completed an internship in Plastic Surgery and Oral and Maxillofacial Surgery at the Venezuelan Red Cross Hospital. He then began his Oral and Maxillofacial Surgery residency at the University of Texas Southwestern Medical School and Parkland Memorial Hospital in Dallas, TX, which he completed in 1981.
After completing his residency, Dr. Guerrero returned to Caracas, Venezuela as a Professor in Orthodontics and Oral & Maxillofacial Surgery (post-graduate programs). By 1993 he was named Director of the Santa Rosa Oral and Maxillofacial Surgery Center, a post he held until departing the institution in 2014. Dr. Guerrero was elected President of the Venezuelan Association on Craniofacial Anomalies (AVACFA) from 1995-1998, as well as President of the Latinoamerican Association of Oral and Maxillofacial Surgeons from 1997-2000, and President of the Venezuelan Society of Oral and Maxillofacial Surgery from 2002-2004. In 2015, Dr. Guerrero moved to Galveston, TX and joined the University of Texas Medical Branch as an Assistant Professor in the Oral and Maxillofacial Surgery Division. Since his arrival the number of surgical procedures using zygoma or extraoral implants has increased drastically. Earlier this year, Dr. Guerrero was selected as the recipient of the prestigious Dr. Harry Archer Awarded by the American College of Oral and Maxillofacial Surgeons.
Dr. Guerrero's research interests include severe facial deformities and reconstruction, axillary and mandibular deficiencies or atrophies, craniofacial syndromes, zygoma or extraoral implants, and facial esthetics. He is an international speaker giving many lectures and presentations annually, and he is highly regarded by his colleagues. Dr. Guerrero has authored and co-authored numerous publications in oral surgery and even has a patent for an intraoral distraction device. He enjoys living in Galveston and makes frequent trips to Miami, FL to spend as much time as possible with his daughter and grandchildren.
Medical/Professional School:
Central University of Venezuela - Caracas, Venezuela, DDS, 1976
Internships:
Plastic Surgery and Oral and Maxillofacial Surgery, Central University of Venezuela, Venezuelan Red Cross Hospital - Caracas, Venezuela, 1977
Residencies:
Oral and Maxillofacial Surgery, Southwestern Medical School, University of Texas Health Sciences Center - Dallas, TX, 1981
No Location data to display