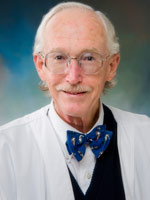 Dr. Malloy is a distinguished educator and clinician. He has been involved in all phases of the medical school curriculum and is active in teaching fellows and residents in Pediatrics. In 2009, Dr. Malloy was recognized as a nominee for the Association of American Medical Colleges (AAMC) Arnold P. Gold Foundation Humanism in Medicine Award. He was among a select group of 42 physicians nationwide considered for this prestigious award. Dr. Malloy was nominated by our Organization of Student Representatives based on five defining characteristics: positive mentoring skills, compassion and sensitivity, collaboration, community service activity, and observance of professional ethics. The annual award is presented by the AAMC to recognize a medical school faculty member who exemplifies the qualities of a positive and caring role model and as a physician whom students would like to emulate.
An expert in the field of neonatal and perinatal medicine, Dr. Malloy was selected by his peers a number of times as one of the Best Doctors in America and America's Top Doctors. He is a productive researcher with an impressive publication record and a distinguished track record of grant funding from the NIH and foundations.
Dr. Malloy earned his MD degree in 1973 from UTMB, where he also completed his residency in Pediatrics. He completed a fellowship in Neonatal-Perinatal Medicine at the University of Texas Medical School, Houston and another in Perinatal Nutrition at Columbia University Institute of Human Nutrition, New York. He earned his MS degree in Epidemiology from the University of Texas School of Public Health, Houston. Dr. Malloy first joined the UTMB faculty in 1980 and moved to the National Center of Health Statistics in 1985 as part of a U.S. Department of Health and Human Services Training Program in Epidemiology. In 1987, he took a position as a Medical Research Officer in the Division of Preventive Medicine and Epidemiology at the National Institute for Child Health and Human Development. He returned to UTMB in 1991 at the level of professor. Since his return to UTMB, Dr. Malloy has held positions as Clerkship Director and Chair of Undergraduate Medical Education in the Department of Pediatrics, and Director of the Multidisciplinary Ambulatory Clerkship.

Medical/Professional School:
University of Texas Medical Branch - Galveston, TX, MD, 1973
Internships:
Rotating, Norfolk General Hospital - Norfolk, VA, 1974
Residencies:
Pediatrics, University of Texas Medical Branch - Galveston, TX, 1976
---
Certifications:
American Board of Pediatrics, Pediatrics
American Board of Pediatrics, Neonatal-Perinatal Medicine
No location details to display
Why do some providers have no ratings?
A provider may have no ratings for several reasons. A provider's ratings are only posted when she/he has a minimum of 30 completed surveys within the past twelve months. New-to-UTMB providers or individuals in less common areas of practice may be temporarily under this threshold. Also, the UTMB Health provider directory includes listings for independent community physicians and other health care providers who serve patients in our facilities. Ratings for these individuals, who are part of their own private practices, are not currently available to us.
Read more about Ratings and Comments