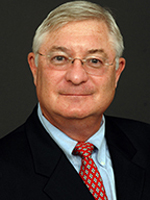 Dr. David N. Herndon was born and raised in Cleveland, Ohio. He holds a B.A. and M.D. from Case Western Reserve University. He completed his surgical training at Duke University, the US Army at the Brooke Army Medical Center—Institute of Surgical Research, and the New York Hospital—Cornell Medical Center. Dr. Herndon came to Galveston in 1981 where he was jointly appointed Professor of Surgery and Director of Burn Services at the University of Texas Medical Branch, Chief of Staff and Director of Research at Shriners Hospitals for Children-Galveston. After receiving the Annie Laurie Howard Professorship in 1988, he was honored with the Jesse H. Jones Distinguished Chair in Burn Surgery in September of 1990.
Dr. Herndon began his research in the late 1970s, when he developed a small animal model to study the humoral mediators of hypermetabolism due to burns, developed a large animal model to study smoke inhalation injury, and began research on new drugs and techniques to improve the immune deficiency state after burns. Over the last three decades, his studies in these areas have significantly contributed to control of infection, reduction of hypermetabolism, treatment of smoke inhalation injury, ultimately resulting in lower mortality, decreased scarring, and improved rehabilitation after burn injury. In addition, he has been continuously funded by the National Institutes of Health for the last 25 years and Shriners Hospitals for Children for the last 30 years.
He has authored over 1,000 peer‐reviewed articles and has contributed to numerous books, most notably "Total Burn Care", a worldwide reference for burn care. He is the recipient of several awards including Harvey Stuart Allen Distinguished Service Award from the ABA, and Flance-Karl Award from the American Surgical Association. In 2014, Dr. Herndon was awarded the prestigious Medallion for Scientific Achievement by the ASA and also received the Tanner-Vandeput-Boswick Burn Prize from the International Burn Foundation. He was given the Special Achievement Award by the American Burn Association in 2015. In 2016, Dr. Herndon received recognition from the American College of Critical Care Medicine when he was presented with the ACCM Distinguished Investigator Award.
Dr. Herndon is active in national and international organizations. He currently serves as President of the Southern Surgical Association. He is Past President of the International Society for Burn Injuries, the American Burn Association, the Society of University Surgeons and the Singleton Surgical Society. Dr. Herndon was most recently named as Editor for the Journal of Burn Care and Rehabilitation. Education has also been a major focus of Dr. Herndon's career, with more than 200 fellows, physicians and researchers having completed training under him.
Medical/Professional School:
Case Western Reserve University School of Medicine - Cleveland, OH, MD, 1974
Internships:
Surgery, Duke University Medical Center - Durham, NC, 1975
Residencies:
Int Med & Psychiatry, New York Hospital Cornell Medical Center - New York, NY , 1980
General Surgery, New York Hospital Cornell Medical Center - New York, NY , 1980
---
Certifications:
American Board of Surgery, Surgery
American Board of Surgery, Surgical Critical Care
No location details to display