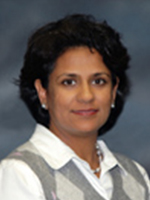 Medical/Professional School:
Christian Medical College - Pujab, India, MD, 1985
Residencies:
Pathology, Tufts University - Medford, MA, 2004
Fellowships:
Cytopathology, Brigham & Women's Hospital - Boston, MA, 2005
---
Certifications:
American Board of Pathology, Anatomic and Clinical Pathology
American Board of Pathology, Cytopathology
No location details to display
Why do some providers have no ratings?
A provider may have no ratings for several reasons. A provider's ratings are only posted when she/he has a minimum of 30 completed surveys within the past twelve months. New-to-UTMB providers or individuals in less common areas of practice may be temporarily under this threshold. Also, the UTMB Health provider directory includes listings for independent community physicians and other health care providers who serve patients in our facilities. Ratings for these individuals, who are part of their own private practices, are not currently available to us.
Read more about Ratings and Comments