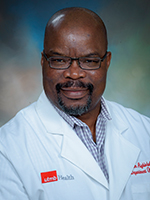 Assoc Prof- N-T Track Clinical
Dr. Lem, as he is commonly known, is a Pediatric Infectious Diseases and Pediatric Hospital Medicine Physician whose clinical practice is focused on General Pediatric Inpatient Care, improving the efficiency and quality of care of children hospitalized with common, serious infections such as pneumonia and meningitis and the human immunodeficiency virus (HIV) disease. He received his medical degree from the Central America Health Science University, Belize.
He completed his residency in Pediatrics at Loyola University Medical Center, Maywood, Illinois. He went on to complete fellowship in Pediatric Infectious Disease at the University of Florida Health Science Center, Jacksonville. Upon completing his fellowship, he joined UTMB as an Assistant Professor in the Department of Pediatrics in 2008.
Medical/Professional School:
Medicine, Central America Health Science University - Ladyville, Belize, MD, 2001
Residencies:
Pediatrics, Loyola University Stritch School of Medicine - Maywood, IL, 2005
No location details to display