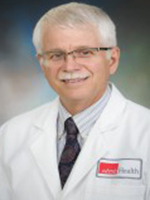 Dr. Melby joined UTMB in 2010 as Professor of Internal Medicine in the Division of Infectious Diseases and Director of the UTMB Center for Tropical Diseases. He has an active research program related to the immunopathogenesis of parasitic diseases, with a particular focus on leishmaniasis. His laboratory has been involved in vaccine development, studies to determine immunopathological mechanisms of disease, studies to define the impact of malnutrition on innate immunity and visceral leishmaniasis, and drug discovery. Dr. Melby's interest in tropical diseases and the neglected diseases of resource-poor developing countries started thirty years ago when he first worked overseas in a hospital laboratory in rural Egypt. He subsequently returned to the U.S. to attend medical school at the University of Colorado and then went on to complete his residency in Internal Medicine at the University of Missouri, a research fellowship in the Laboratory of Parasitic Diseases at the National Institutes of Health, and a clinical infectious diseases fellowship at the University of Texas Health Science Center, San Antonio. He is active in the clinical practice of infectious diseases and in the teaching of medical and graduate students, as well as clinical residents and fellows.
Medical/Professional School:
University of Colorado Anschutz Medical Campus - Aurora, CO, MD, 1983
Internships:
Internal Medicine, University of Missouri - Columbia, MO, 1984
Residencies:
Internal Medicine, University of Missouri - Columbia, MO, 1986
Fellowships:
Infectious Diseases, National Institute of Health - Bethesda, MD, 1989
No location details to display
Why do some providers have no ratings?
A provider may have no ratings for several reasons. A provider's ratings are only posted when she/he has a minimum of 30 completed surveys within the past twelve months. New-to-UTMB providers or individuals in less common areas of practice may be temporarily under this threshold. Also, the UTMB Health provider directory includes listings for independent community physicians and other health care providers who serve patients in our facilities. Ratings for these individuals, who are part of their own private practices, are not currently available to us.
Read more about Ratings and Comments