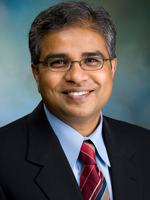 Dr. Bagi Jana joined the faculty of UTMB division of Medical Oncology and Hematology in 2011. He earned his medical degree at the Madras Medical College in Chennai, India in 1990. He completed his Internal Medicine Residency at the University of Illinois College of Medicine and went on to complete his fellowship in Medical Oncology and Hematology at the Mount Sinai Medical Center, New York University, New York.
Certified by the American Board of Internal Medicine (1997), Medical Oncology (2000 & recertified 2010) and Hematology (2003), Dr. Jana brings more than a decade of experience in providing high quality and compassionate cancer care. His research interests focus on improving the outcome of Genito urinary malignancies namely Prostate, Urinary bladder and Kidney cancers. Dr. Jana is actively engaged in clinic research and strives to provide the best modern cutting edge multi disciplinary care at UTMB.
Dr. Jana is a member of American Society of Clinical Oncology, American Medical Association, American Association of Cancer Research, American Society of Hematology, RTOG and SWOG. He has authored or co-authored several peer reviewed journal publications involving original research, abstracts and book chapters.
Medical/Professional School:
University of Madras, Sri Ramachandra Medical College - Chennai, India, MD, 1991
Internships:
Anatomic/Clinical Pathology, University of Illinois College of Medicine - Chicago, IL, 1994
Residencies:
Internal Medicine, University of Illinois College of Medicine - Chicago, IL, 1997
Fellowships:
Hematology/Oncology, Mount Sinai School of Medicine - New York City, NY, 2000
---
Certifications:
American Board of Internal Medicine, Hematology
American Board of Internal Medicine, Medical Oncology
No location details to display