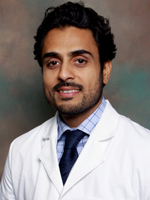 This individual is in a non-scheduling role
Dr. Qureshi joined The Department of Family Medicine in 2011. He graduated from the UTMB Health Family Medicine Residency Program in 2014. Dr. Qureshi received his Doctorate of Medicine from Lahore Medical and Dental College in Lahore, Pakistan. He is also certified by the Educational Commission for Foreign Medical Graduates.

Dr. Qureshi is certified in Advanced Cardiac Life Support (ACLS), Basic Cardiac Life Support (BCLS), Advanced Neonatal Life Support (ANLS), Pediatric Advanced Life Support (PALS), and Advanced Life Support in Obstetrics (ALSO). Dr. Qureshi is certified by the American Board of Family Physicians and will be seeing patients in the family medicine inpatient hospital service.

Dr. Qureshi's academic and clinical interests include Outpatient and Inpatient Family Medicine and Emergency Medicine.
Medical/Professional School:
Lahore Medical and Dental College - Lahore, Pakistan, MBBS, 2007
Internships:
University of Texas Medical Branch - Galveston, TX
Residencies:
University of Texas Medical Branch - Galveston, TX
---
Certifications:
American Board of Family Medicine, Family Medicine
No location details to display