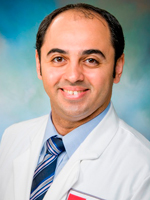 Dr. Soliman is a pediatric ophthalmologist and adult strabismus surgeon.
Areas of clinical interest for Dr. Soliman include all forms of pediatric and adult strabismus (crossed eyes), pediatric tear duct disorders and ptosis (drooping eyelids), pediatric cataract and secondary intraocular lens implants, pediatric glaucoma with surgical and laser therapies, amblyopia (lazy eye) management, management of retinopathy of prematurity, surgical and non-surgical management of adult diplopia (double vision). Dr. Soliman was also trained in emerging new intra-ocular procedures like insertion of phakic intra-ocular lenses for treatment of very high refractive errors as well as insertion of iris-enclaved intra-ocular lenses for treatment of childhood aphakia.
As a member of the faculty at UTMB Health Ophthalmology and Visual Sciences, he trains residents in pediatric ophthalmology and adult strabismus.
Dr. Soliman earned his medical degree from Cairo University then joined Johns Hopkins University for a research fellowship at Wilmer Eye Institute. He then received his ophthalmology training at Louisiana State University, followed by his subspecialty training at Washington University in St. Louis and St. Louis Children's hospital. He also received a Master's Degree of medical education from the University of Cincinnati.
He is a member of the American Academy of Ophthalmology and the American Association for Pediatric Ophthalmology and Strabismus.
Medical/Professional School:
Cairo University School of Medicine - Cairo, Egypt, MD, 2002
Internships:
Internal Medicine, Monmouth Medical Center - Long Branch, 2009
Residencies:
Ophthalmology, Louisiana State University Health Sciences Center - New Orleans, LA, 2012
Fellowships:
Pediatric Ophthalmology and Adult Strabismus, Washington University School of Medicine - St. Louis, MO, 2013
Children's Hospital of St. Louis - St. Louis, MO, 2014
400 West Parkwood Avenue Suite 120
Friendswood, TX 77546
Fax: (281) 996-9944
10121 Emmett F. Lowry Expressway
Texas City, TX 77591
Fax: (409) 978-4316
700 University Boulevard
Galveston, TX 77550
Fax: (409) 747-5825