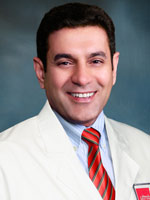 Ghannam Al-Dossari, MD, MS, FACS
Dr. Al-Dossari, Cardiothoracic Surgeon at the University of Texas Medical Branch (UTMB), was born in Saudi Arabia. He immigrated to the United States in 1990 to complete his education and training. He completed all of his academic and medical training at the University of Minnesota and the University of Texas educational system. After completion of his Cardiothoracic Surgery residency at the University of Texas Southwestern Medical Center, he was hired by King Faisal Specialist Hospital in Riyadh to start the first heart failure program in Saudi Arabia. Dr. Al-Dossari returned back to the United States and worked at the Cleveland Clinic for one year as an associate staff. He was then recruited by Saad Specialist Hospital as the Chief of Cardiovascular and Thoracic Surgery services.
During his time at Saad Specialist Hospital, he also served in several leadership positions including The Deputy Chief Medical Officer, the Director of Quality assurance and the chair of the OR committee. In 2012, he was recruited by the University of California - San Francisco to help in rebuilding the heart failure program. Dr. Al-Dossari was instrumental in the development of many service lines at the University of California - San Francisco, which included the extracorporeal life support to Go program, The Transcatheter Aortic Valve Replacement program and the Arrhythmia surgery program. In 2015, he was recruited by UTMB as the Chief of Cardiac Surgery Division and the Director of the Heart Failure Program. He is actively involved in the Heart Transplantation and the Mechanical Circulatory Support Societies and has served on its Regulatory Committees. Dr. Al-Dossari is a national and international proctor and speaker and gives many lectures annually on Heart Failure, extracorporeal life support and Transcatheter Aortic Valve Replacement. He is completing his Physician Executive MBA from the University from Tennessee with focus on healthcare reform and quality utilizing six sigma and lean methodology.

Provider is LGBTQ Responsive
Medical/Professional School:
King Saud University College of Medicine - Riyadh, Saudi Arabia, MD, 1987
Experimental Surgery, University of Minnesota - Minneapolis, MN, MS, 1994
Residencies:
General Surgery, University of Minnesota Hospital and Clinics - Minneapolis, MN, 1999
Cardiothoracic Surgery, University of Texas Southwestern Medical Center - Dallas, TX, 2001
Fellowships:
Cardiovascular Research, University of Minnesota Hospital and Clinics - Minneapolis, MN, 1994
---
Certifications:
American Board of Thoracic Surgery, Thoracic Surgery
No location details to display