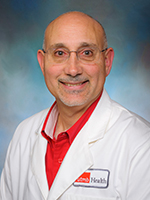 Dr. Matthew J. Hay joined UTMB Pediatric Associates in 1997. Board-certified by the American Board of Pediatrics, Dr. Hay completed his residency in pediatrics and received his doctorate in medicine from the University of Texas Medical Branch in Galveston. Dr. Hay holds a bachelor's degree from Stephen F. Austin State University. He is also the Medical Director of the UTMB Health Primary and Specialty Care Clinic in Texas City.
Dr. Hay has been named the Galveston Daily News Reader's Choice Best Pediatrician of Galveston County in 2015, 2016, 2017, and 2019. Dr. Hay is currently a member of the Galveston Independent School District Board of Trustees, currently serving in his third three-year term, as well as serving as the President for six of those years. He served on the Texas Youth Commission Advisory Board after being appointed by then Texas Governor Rick Perry. He has developed a special interest in children with Attention Deficit Hyperactivity Disorder and other behavioral or school-related problems.
When he isn't seeing patients, Dr. Hay coaches the Texas A&M Galveston Lady Aggies soccer team.
Medical/Professional School:
University of Texas Medical Branch - Galveston, TX, MD, 1994
Internships:
Pediatrics, University of Texas Medical Branch - Galveston, TX, 1995
Residencies:
Pediatrics, University of Texas Medical Branch - Galveston, TX, 1997
---
Certifications:
American Board of Pediatrics, Pediatrics
10121 Emmett F. Lowry Expressway
Texas City, TX 77591
Fax: (409) 986-7890